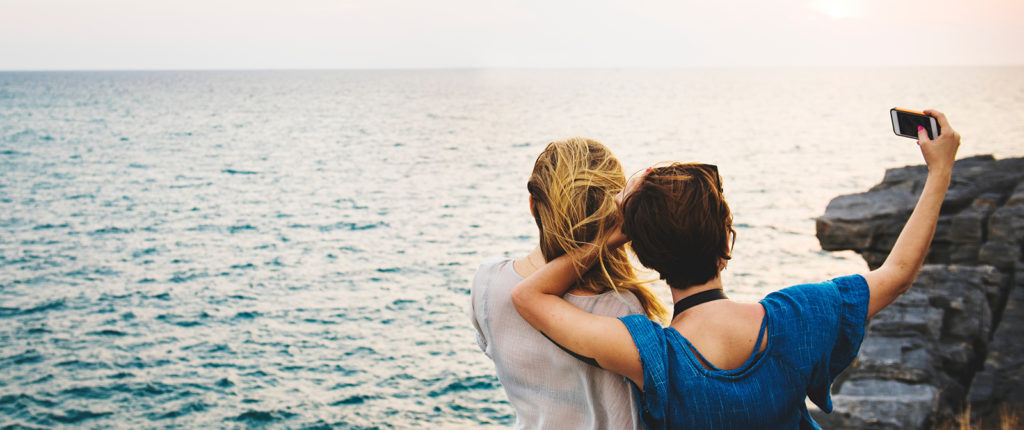 Snapchat has always been a bit of a mystery to most digital marketers. Despite having over 178 million DAU in an extremely desirable age range, Snapchat's lack of analytics and tracking capabilities has always been a bit of a roadblock to most marketers.
While the LA-based ephemeral content platform may not have the reach or tracking power of Facebook and Instagram, but its users are undeniably loyal. With over 3 billion snaps sent every day, it's probably not a surprise that Snapchat has the highest penetration into the 12-17 age demographic out of any current social media platform. 7/10 Snapchatters are millennials, and the average user sends over 20 snaps to their friends each day.
Geofilters are excellent at engaging younger users with your brand in a way that feels fun and authentic. If you're a marketer, it's important to capitalize on Geofilters before they become yet another part of the oversaturated social media landscape. Build a strong presence on Snapchat early on while its users still appreciate engaging content.
Geofilters Spread like Wildfire
It's easy to rack up video views on Facebook with a $20 campaign, but are you really leaving a lasting impact on anyone? We all know Facebook isn't the most engaged platform — for the most part, its campaigns are a numbers game.
Geofilters are different. Instead of forced impressions, users interact with filters organically as they edit and publish their own content. Everyone has access to your filter within a given geofence, but the real magic happens when these users start to send snaps to their friends and post stories using your filter.
If a user takes a photo using your filter and publishes on his or her story, you've immediately activated their entire following with a single snap. Not only is it highly targetable based on location, but to the end user, it doesn't feel like a blatant advertisement.
Users are significantly more likely to engage with your brand because, at the end of the day, you're not the one serving the ad. The key to a viral Snapchat filter is to make something people want to play with — be funny, be engaging, and make the filter about the user, not your brand.
How to Make a Great Filter
"Content is king, but context is god" — Gary Vaynerchuk
The most important aspect of any Snapchat Geofilter is context. Pick an event, capitalize on a current trend, or build something specific to the user's location — just craft a narrative that actually makes sense.
Nobody is going to want to share your filter with their friends if it doesn't tell a story that is relevant to the photo they're taking. It's vital to think about where your filter is going to be displayed and what types of photos users are going to be sending around.
It's also important to consider the overall environment. Photos captured in a dark area will fare better with light graphics, but if it's the middle of the day, white text might get lost in the sky. Make sure your visuals pop but don't be overly intrusive.
Always leave a clear area for users' faces. Keep your graphics on the top, bottom, and sides of the screen — users are sending photos to their friends — if you create something engaging, you might get lucky enough to hitch along for the ride.
Measure twice, submit once. Test your Geofilter on your own snaps before sending it in for review. Make sure everything fits and you can still see faces on multiple device sizes/aspect ratios. If you decide to include your logo, it definitely shouldn't be the focus of your filter.
Technical specifications:
1080 pixels wide by 1920 pixels high
Must be uploaded as a PNG with a transparent background
No files larger than 300KB
Lock in Your Location and Get Started
After you finish submitting your Geofilter's creative, you'll be asked to select a date range and location for your campaign. For events, it's a good idea to get the ball rolling a few days before people start showing up — you'll generate hype and improve your odds of reaching more people.
On the other hand, for a product launch, the strategy might be a little different. Like any marketing tactic, you should never start a Geofilter without first establishing a clear goal for your campaign.
Once you've picked a date range, search for the area you're targeting and use the pins to draw a Geofence around it. It's good practice to make the fence a little larger than the actual area you're targeting because mobile devices aren't 100% accurate at tracking users' locations.
It's better to have your filter overextend and spill over into other areas than it is to have users at your event not be able to access it. The minimum is 20,000 square feet, and the maximum is 5,000,000 square feet — everything is priced by the hour. Snapchat gives you a spend in the upper right corner depending on the duration of your campaign and the size of your geofence.
For the most part, there are three overarching goals when using Snapchat filters to market your brand: make your content shareable, give your brand context, and get people to remember your brand in a unique way. Geofilters on Snapchat may not be very trackable, but they can do wonders in terms of getting people to engage with your brand in a way that's genuinely fun. Geofilters let you leverage hundreds of micro-influencers with as little as five dollars.